ARTIST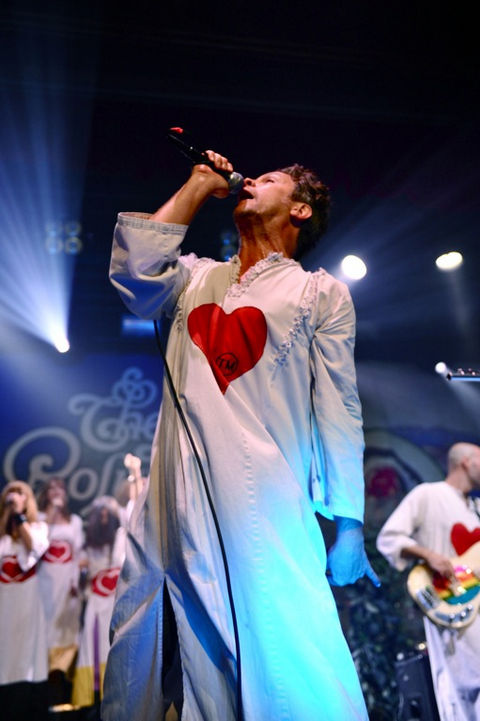 Photo by Toby Tenenbaum via Brooklyn Vegan.
THE POLYPHONIC SPREE
Tim DeLaughter - Lead vocals, guitar, piano
Julie Doyle - Choir
Cassandra Askin - Choir
Matt Bricker - Trumpet
Tamara Cauble - Violin
Audrey Easley - Flute, piccolo, EWI
Elizabeth Evans - Choir
Jason Garner - Drums
Kristin Hardin - Choir
Cory Helms - Guitar
Jesse Hester - Piano
Buffi Jacobs - Cello
Jay Jennings - Trumpet
Jessica Jordan - Choir
Jennie Kelley - Choir
Jenny Kirtland - Choir
Mark Pirro - Bass guitar
Ricky Rasura - Classical Harp
Sean Redman - Violin
Mike St.Clair - Trombone
Heather Test - French Horn
Kelly Test - Percussion
Natalie Young - Choir
CONTACTS
MANAGEMENT
Julie Doyle
Good Management

BOOKING
US: mdiamond@paradigmagency.com UK/Europe: ross@primarytalent.com
PUBLICITY
US: rshapiro@shorefire.com and jbleicher@shorefire.com
UK/Europe: keongwoo@familyltd.co.uk

LABEL CONTACT
Tami Thomsen
Kirtland Records
3100 Main St. Suite 347
Dallas, TX 75226
(214) 824-7700
BIO
The Polyphonic Spree began in 2000. Since then they have traversed the globe several times over (including appearances at the Nobel Peace Prize Concert, Oscar de la Renta Fashion Week Runway Show, MTV Video Music Awards, Glastonbury, Summersonic, and various late night TV shows) while receiving accolades, adoration, and even a few imitators. What many outside of Dallas are unaware of is the band's annual Holiday Extravaganza, now in it's tenth year. To celebrate the band will finally release their first volume of holiday songs, titled Holidaydream, the group's first full-length release since 2007's The Fragile Army.
Holidaydream: Sounds of the Holidays Volume One is not your typical, by-the-numbers holiday collection. The music within is magical, otherworldly, and at times somber. The songs captivate as they float by. A few of the songs have alternate melodies and truncated lyrics but maintain the timelessness and sentimentality of the song. With Holidaydream, Polyphonic Spree sought to channel the holiday season's full range of moods, from joyous to melancholy. Arrangements are twisted, like on the spacey, shape-shifting "Do You Hear What I Hear" and "Silver Bells" (featuring School of Seven Bells), and melodies are morphed, as on an ethereal "Winter Wonderland," but the spirit of the holidays remains firmly intact.
RELEASES
CD: $12
VINYL: $25
VINYL DETAILS
LP is 180 gram LIMITED EDITION colored vinyl wrapped in a deluxe gatefold jacket with printed inner sleeve. Includes a download card and randomly inserted holiday postcards. Virgin vinyl mixed by the band. No two vinyls alike!
TRACK LISTING
01. A Working Elf's Theme
02. Winter Wonderland
03. The Christmas Song (Chestnuts Roasting On An Open Fire)
04. Happy Xmas (War Is Over)
05. Silent Night
06. Silver Bells (Feat. School of Seven Bells)*
07. Do You Hear What I Hear?
08. Carol of the Drum (Little Drummer Boy)
09. White Christmas
10. Let It Snow
11. It's the Most Wonderful Time of the Year
12. Silver Bells (Reprise)
13. Holidaydream
CATALOG INFO
Album Title: Holidaydream
Label: Kirtland Records
Catalog Number: KR-68
Release Date: Oct, 23, 2012
Format: CD, Vinyl
Type: Full Length
2012 HOLIDAY EXTRAVAGANZA
12/06 - Los Angeles - Fonda Theater
12/08 - San Francisco - Slim's
12/11 - Chicago - Logan Square Auditorium
12/14 - Philadelphia - Trocadero Theatre
12/15 - New York - Webster Hall
12/22 - Dallas - Lakewood Theater