ARTIST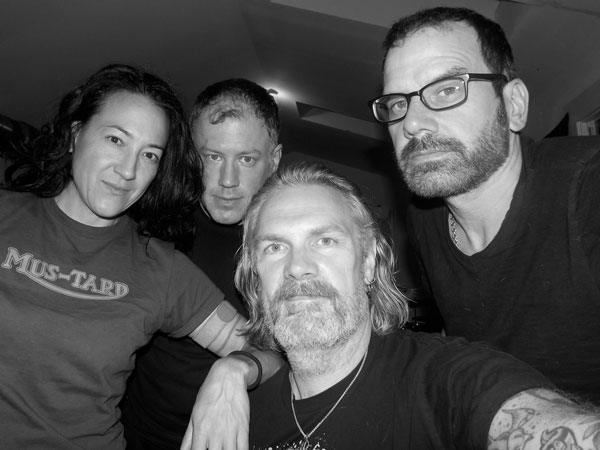 HELL TEXAS
Taz Bentley - Vocals, Guitar
Kenny Withrow - Guitar
Spyche - Bass
Aaron Lyons - Drums
CONTACTS
PRESS
Tami Thomsen

BOOKING
Dale Brock
MANAGEMENT
Dale Brock & Tami Thomsen

LABEL CONTACT
Tami Thomsen
Kirtland Records
3100 Main St. Suite 347
Dallas, TX 75226
(214) 824-7700
PRESS KIT
Band Photo { .PRINT } { .WEB }
Album Cover Art { .PRINT }
Bio { .DOC }
BIO
"Fuck this shit." That's what Taz Bentley told his friend Izzy Stradlin after Bentley's band, The Burden Brothers, broke up. Over two decades, Bentley logged thousands of shows playing drums with The Rev. Horton Heat, Duff McKagan's Loaded, Tenderloin, and the Burdens to varying degrees of success. When the latter band dissolved just as they were picking up steam, Bentley decided, "I don't fuckin' wanna do this anymore."
Stradlin tried to cheer Bentley. "I've been there," the erstwhile Guns 'N' Roses guitarist told him. He tried to convey the idea that fuck-it heartbreak is where some great music comes from. "Just write it down," Stradlin said several times over their three-hour phone call. Bentley was unmoved: "You don't get it—I'm done with music."
A week later, Bentley arrived home to find an acoustic guitar on his porch. "There was a note inside," says Bentley. "It said, 'Just write it down.'" Once more, Bentley said, "Fuck it." This time, though, it was with a fire in his belly. Bentley resolved to "write the most angry, evil rock 'n' roll record in the history of music."
That's not what wound up happening. Instead of channeling his rage through snarling guitars and drum kit abuse, "Country songs fell out of me." Bentley realized he hadn't been looking for anything, that he sat down intending to make music and "that's what started comin' out."
Since all of his other bands played variations on rock 'n' roll—at volume, and Bentley, a 6'6 behemoth, is known for providing their brawny backbeat, it's a surprise to hear his whiskey-warmed baritone twang on "If She Leaves It Alone," from the eponymous debut album of his new band, Hell, TX. Although he says the songs fell out of him, Bentley grew up on country music, which was just as prominent as rock 'n' roll when he was growing up in Texas. And really, it was the sound best suited to what he was going through at the time. "I was just lookin' to get rid of this anger. And it worked. It cured me, writing all this stuff."
When the time came to assemble a band and record the tunes, Bentley reached out to guitarist Kenny Withrow, who'd been a friend since they attended the same arts-magnet high school together. After running into bassist—and a singer-songwriter, herself—Spyche at a show, Bentley enlisted her, drummer Aaron Lyons joined soon after. "They're all established in their own right," Bentley says, "and I'm absolutely humbled that they were kind enough to be interested in playing these songs of mine."
Texas pride influenced the band's name. At Reverend Horton Heat shows, the band made it a point to let everyone know the place they called home. "All around the world, Jim would say, 'I'm the Reverend Horton Heat from beautiful East Dallas, Texas.'" Eventually, the band began addressing crowds as "Seattle, Texas! New York, Texas! Amsterdam, Texas! Barcelona, Texas!" Bentley explains, "Texas pride has always been a big part of my performance and persona. I have carried it with me in all my musical endeavors. T for Taz, T for Texas! Having Texas in the band name made all the sense in the world."
Recording Hell, TX was a longer process—three years of "sporadic" activity that took place around the musicians' various schedules. Bentley wanted it that way. In fact, he financed the initial tracks himself just to ensure his catharsis would be unencumbered by the interests of anyone but him and his bandmates. "It ended up costing me a helluva lot more than I thought," says Bentley. But it was worth it.
Taking their time meant Bentley could do most of his tracks "at home, drinking whiskey." That way, "I didn't feel so much pressure," says Bentley, who was happy to have the opportunity to gradually grow into his new role as a frontman. "I don't think of myself as a singer." The 11-track platter is the archetypal honky-tonk outlaw country album, by turns belligerent, regretful, funny and grateful—but unflinchingly honest. These are qualities he picked up on in the country music he listened to as a kid, and still listens to today. The "real-deal Holyfield stuff" like Willie Nelson, Johnny Cash, Hank Williams, Sr. and Bob Wills and the Texas Playboys. The songs on Hell, TX are the real deal. "If She Leaves It Alone," finds Bentley working through his divorce in a somnambulant drawling vocal that becomes, in the last chorus, a triumphant rocker. "Cold Beer," inspired by the way baseball brew-hawkers call to thirsty fans, celebrates cerveza as a trouble-eraser. "Horses" is the archetypal, heart-achy, 'what went wrong?' breakup ballad.
Not every song is full-on country, however. "Dead Like Me" is a gospel rave-up reminiscent of the Louvin Brothers' "The Great Atomic Power." It is about the afterlife—just not the one the Louvins had in mind. When Bentley sings, "I need someone cold who's got eyes of gold/Are you the one… to spent eternity with me?," he's talkin' about vampires—because, trying to be a good dad, he "mowed through" all four Twilight books. He even watched True Blood.
Fatherhood is something that's been on Bentley's mind over the last few years. The hard-hitting, wistful "Babies" looks back on the choices Bentley made and the sacrifices they entailed. "I chose to lose/ when I choose to choose/ All this dirty, lowdown business/ once again…/And I hope my babies understand." He says the song is about how he missed seeing his older daughter grow up. "We're good now," he's happy to report. "She moved in with me with she was 14 or 15." Having learned from past experience, and being wiser, post-divorce, Bentley stopped touring in order to take full custody of her and his other daughter.
On the other side of Hell, TX, Bentley realized he'd "created an outlet that's very important to me." He's rediscovered his love of making music, but he's gonna do things differently this time around. He's writing songs with Izzy and Duff, and looking at other projects—"but Hell, TX is my focus," he says. "I've got enough drum work to play now and again and be happy." As far as the record goes, and the idea of a possible tour, Bentley and Kirtland Records have agree to focus on the Texas market and see how it goes.
"That doesn't mean we won't spill out into neighboring states," he says. "And that's not to say that I don't want to go national. I'd love to, but I'm more interested in keeping it close to home. I feel like I missed out on my older daughter and don't wanna go through that again. But after she goes to college, I'm gonna push for a tour."
RELEASES
TRACK LISTING
01. If She Leaves It Alone
02. Cold Beer
03. River
04. Paint
05. I've Got Some News
06. As The Night Is Coming Down
07. Dead Like Me
08. True Love Today
09. Babies
10. Come To Your Senses
11. Horses

CATALOG INFO
Title: Hell Texas (Self-titled)
Label: Kirtland Records
Release Date: 11/29/15
Format: Digital, CD
VIDEO