ARTIST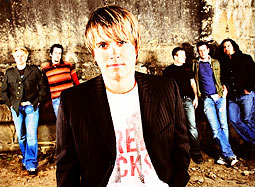 PAT MCGEE
Pat McGee - vocals and guitar
Brian Fechino - guitar
Jonathan Williams - keyboards, vocals
Chris Reardon - bass, vocals
Chardy McEwan - percussion

CONTACTS
BOOKING
Peter Pappaldaro
MANAGEMENT
Jason Spiewak
Rock Ridge Music
email
PUBLICITY
Krista Mettler
email
LABEL CONTACT
Kirtland Records
(214) 824-7700
PRESS KIT
Band Photo { .PRINT } { .WEB }
Album Cover Art { .PRINT } { .WEB }
Bio { .DOC }
PRODUCTION
Stage Plot { .PDF }
BIO
On its fourth album, Save Me, the Pat McGee Band come full circle, returning to the independent music roots of the group's formation almost a decade ago. As one of the nation's hardest-working live acts, playing more than 250 dates, annually, the band has earned a loyal following nationwide, based on musicianship and carefully crafted songs that don't cater to short-lived trends and whims of the marketplace.
After spending the first part of the decade signed to a major label, the Pat McGee Band has now partnered with Kirtland Records. "They have the attitude of a major, though technically, they're an indie," Pat says. "It's an amped-up version of what we started with. When we signed our last contract, I was hesitant for four years. Now, it feels good again."
Pat first began playing guitar in his home state of Virginia after seeing a neighbor smash an electric guitar in the middle of the street. With a little help from his brother, including advice not to play left-handed like him, Pat was on his way. He honed his skills playing locally, released an independent solo album then, formed the Pat McGee Band in Richmond in 1996.
With a few changes in players along the way – though most key members have been in it for the long haul – the group built a following step by step, year after year. "For us it was get in the van and tour, win over a crowd one person at a time, " Pat says. "We're a working band on the road all the time, without having had a hit song, and not one of us has had a day job since high school."
With Save Me, the group has captured the essence of its concert performances. Pat candidly admits, "In the early days especially, people would say 'the records are great, but the live show is electrifying.' We sort of got sick of hearing that; at the end of the day we wanted them to be as impressed with our record and feel like we've finally made something where we have to actually better our live show."
The first single and video, "Must Have Been Love," is a song for all ages, from young lovers to couples celebrating golden anniversaries. And it's not just about romance. "It can be about an amazing job, a love for your kids, any kind of relationship," Pat says.
Perhaps the two most intensely passionate tracks are "Don't Give Up" and "You And I." "Don't Give Up" came to Pat onstage as he watched from the wings while his band mates traded solos. He quickly grabbed his tour manager's cell phone to sing the song in his head on voice mail. "It's not something I sat down in a hotel room to write. The song literally just fell from the sky," he says. In contrast, it was the struggle of a close friend trying to maintain a failing relationship that inspired "You And I."
These rich songs filled with shifting meanings afford the band the flexibility to play them in varied arrangements, which is why the album also features five acoustic tracks that include scaled-down, yet equally powerful versions of "Don't Give Up" and "You And I," as well as a lightly stepping take of the cheery "Annabel."
"I grew up loving classic rock, the stuff my parents pounded in my head, from Motown to the Beatles. But there's also all the stuff in the '70s and 80s – punk, new wave, and even bands like Metallica. I'm just a fan of music that moves people in a live setting and a recorded setting. At the end of the day, when you get up on that stage, you want to feel like you put on the best show you possibly could."
For more information, visit patmcgeeband.com or kirtlandrecords.com.
RELEASES
DVD TRACK LISTING
Birmingham Show
01. Runaway
02. Now
03. Must Have Been Love
04. Minute
05. Beautiful Ways
06. Haven't Seen For A While
07. Annabel
08. Girl From Athens
09. Lost
10. Set Me Free
11. You and I
12. Passion
13. Shine
14. Rebecca
Wolf Trap Show
15. Fine
16. On Your Way Out Of Here
17. Never Around
18. Girl From Athens
19. Flooding Both Of Us
20. I Know
21. Elegy For Amy
22. Haven't Seen For A While (Outro)
+ Exclusive Pat interview
CD TRACK LISTING
01. Intro
02. Runaway
03. Now
04. Must Have Been Love
05. Minute
06. Beautiful Ways
07. Haven't Seen For A While
08. Who Stole Her from Heaven
09. Annabel
10. Girl From Athens
11. Lost
12. Set Me Free
13. You and I
14. Passion
15. Rebecca
CATALOG INFO
Vintage Stages Live
Label: Kirtland Records
Catalog Number: KR-33
Release Date: Feb 2007
Format: DVD/CD 2 disc set
Type: Full
TRACK LISTING
1 Athens
2 Fine
3 Flooding
4 Never Around
5 Rebecca
6 Elegy
7 I Know

CATALOG INFO
Live Acoustic from the Barns
Label: Kirtland Records
Catalog Number: KR-37
Release Date: May 2008
Format: Digital Only Release
Type: EP
CD TRACK LISTING
1 Beautiful Ways
2 Must Have Been Love
3 You And I
4 Now
5 Don't Give Up
6 At It Again*
7 Annabel*
8 Never Around
9 Wonderful*
10 Set Me Free
11 Shady
BONUS ACOUSTIC TRACKS
12 Annabel
13 Don't Give Up
14 Now
15 You And I
16 At It Again
CATALOG INFO
Save Me
Label: Kirtland Records
Catalog Number: KR-0026
Release Date: June 28, 2005
Format: CD
Type: Full