ARTIST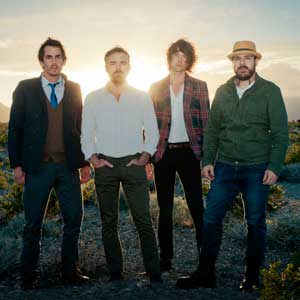 ALPHA REV
Casey McPherson - vocals, gtr, keys
Zak Loy - guitar
Tabber Millard - drums
Jeff Bryant - pedal steel, piano, organ, bass
Alex Dunlap - bass
Brian Batch - violin, viola
Dave Wiley - cello
CONTACTS
MANAGEMENT
Alex Brahl
Red Light Management
BOOKING
Jeffrey Hasson
Paradigm Booking Agency

PUBLICITY
Carrie Lombardi
Live Loud
LABEL CONTACT
Tami Thomsen
Kirtland Records
3100 Main St. Suite 347
Dallas, TX 75226
(214) 824-7700
BIO
"I want the band to mark a moment in time, to celebrate the being of something new; The light at the end of the tunnel, the first step toward revealing something that needs to be seen," says singer-songwriter Casey McPherson of Alpha Rev. Following the Triple A Radio success of New Morning (2010), the band's third album Bloom (2013) is a set of personally transformative and redemptive songs, born in the spirit of creative expansion, and a mandate to blossom and grow.
"To bloom implies something beautiful is going to happen, but it's a process–just like our own journeys," says McPherson.
"Casey and I met when we were really young, and have been playing music with each other off and on over the past 13 years," explains guitarist Zak Loy. "That growth comes across in the music the group is creating now," he says. Rooted in lyrical wisdom, the more recent addition of drummer Tabber Millard–trained by master percussionists –is credited for the band's contemporary tribal rhythms. "Tabber means drummer boy in Arabic and his life revolves around this gift he has," says McPherson. Newest Alpha Rev addition Jeff Bryant rounds out the band, playing pedal steel, piano, organ, and bass.
With a glistening rock sound that is at once fragile and tough, Bloom picks up threads from the past while it takes a big bite into the eternal here and now. Drawing from the wellspring of American history, the grandeur of its landscape, and life's sweet and tragic mysteries, McPherson leans into his personal challenges as well as the wages of the 21st century and emerges with a triumphant statement on the ways in which music can serve as a constant source of strength and inspiration.
The shimmering, hymn-like "Sing Loud" - created with songwriter/producer Jamie Kenney ("He's cut from the same stone I am," says McPherson) - confronts a failing relationship, "But with the belief that you're going to experience freedom again," McPherson explains.
Love and death informs the heart-wrenching "Lexington," based on actual historical love letters from Civil War soldiers to their wives and families. "The amount of pain they were in to be away from those they loved while their lives were at stake was incredible," says McPherson.
"'Black Sky,' is about dealing with losing everything you have from a fire. 'Lonely Man,' is about losing your family from working too much and 'When You Gonna Run,' is about losing the ability to look good in front of somebody," he says.
"Alpha Rev is a collective of musicians," explains McPherson, "Once you join, you're never really gone." On Bloom, Alex Dunlap holds down the bass, while Brian Batch (violin, viola) and Dave Wiley (cello) serve as the band's string section. The players were joined in the studio by a longtime friend of McPherson's, Dwight Baker (Brandi Carlile, Bob Schneider); he oversaw the project in his Austin studio. Producer Jamie Kenney (Marc Broussard) also worked with the band for two songs on Bloom. "Austin is a great city that takes care of musicians; it helps foster ideas and creativity," says McPherson.
Since his beginnings in Jackson, Texas, where he was classically trained on piano, McPherson has traveled the distance: Working in a recording studio by age 16, at 17 he was touring overseas as a keyboard player; at 19 he formed Endochine, its name translating from its Latin and Greek roots as "to explode from within." Turning once again to ancient alphabets for his band's handle, "Alpha Rev is a combination of the Greek word for the beginning, and the incredible Latin prefix rev, as in revolve, revolt, reveal," he says. The band's Hollywood Records debut, New Morning (produced by David Kahne) rose to #3 on the Triple A chart, reaching an audience 40 million listenersstrong. The title song and "Phoenix Burn" also entered the charts.
RELEASES
CD TRACK LISTING
01. Lexington
02. Crystal Colorado
03. Sing Loud
04. Lonely Man
05. Black Sky
06. Highways
07. Eden Home
08. I Will Come
09. When You Gonna Run
10. You Belong
VINYL TRACK LISTING
Side One
01. Lexington
02. Crystal Colorado
03. Sing Loud
04. Lonely Man 05 Black Sky
Side Two
01. Highways
02. Eden Home
03. I Will Come
04. When You Gonna Run
05. You Belong

CATALOG INFO
Album Title: Bloom
Label: Kirtland Records
Catalog Number: KR-71
Release Date: March 19, 2013
Format: CD, Vinyl, Digital
Type: Full Length
BIO (CONT.)
Yet while scaling his own dreams, McPherson lost both his father and brother to suicide. Forming in 2005, Alpha Rev, became a vehicle to grapple with the outpouring of grief that results from losses of that magnitude. Today, McPherson helps others who've lost family to depression and suicide as a volunteer spokesperson for the National Institute of Mental Health organization, Mental Health America of Texas.
"Music changes people," says McPherson. "We're trying to find happiness in music as opposed to self-destruction," he says. "It's my desire, and has always been to be a part of our group, that we make each other better musicians, we make each other better men, we challenge each other, we fight and we forgive. Everybody in the band has really adopted that ideal," says McPherson. "Alpha Rev is more than a band name---it's a motto."