ARTIST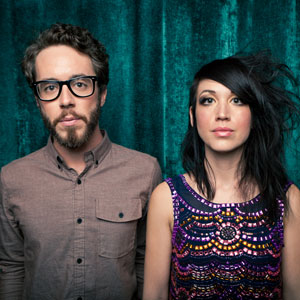 SMILE SMILE
Jencey - Keys/Vocals
Ryan Hamilton - Guitar/Vocals
http://www.smilesmilemusic.com
CONTACTS
BAND EMAIL
info@smilesmilemusic.com
BOOKING
RajiWorld Booking
(512) 478 0400
MANAGEMENT
Tami Thomsen / Dale Brock
Sonar Management
LABEL CONTACT
Tami Thomsen
Kirtland Records
3100 Main St. Suite 347
Dallas, TX 75226
(214) 824-7700
PRESS KIT
Band Photo { JPG }
Album Cover Art { PRINT } { WEB }
Bio { DOC }
PRODUCTION
Input List { DOC }
BIO
Blend hauntingly beautiful vocal lines with a modern folk sound, add emotionally bare, intimate lyrics…and the result is Smile Smile. The Dallas duo will release their sophomore album, TRUTH ON TAPE, via Kirtland Records on February 9th, 2010. A fitting description of Smile Smile comes from the band's hometown newspaper Dallas Observer: "A sort of Clap Your Hands Say Yeah/Mazzy Star hybrid of sing-along folk, buzzy-country leaning tunes and uptempo/downtempo swings, with brilliantly unconventional songwriting and smart harmonies anchoring the whole deal."
Comprised of singer/guitarist Ryan Hamilton and singer/pianist Jencey Hirunrusme, Smile Smile's music chronicles the personal lives of Hamilton and Hirunrusme, two musicians who fell in love and started a band. The pair released their first album, BLUE ROSES while planning their lives together: they got engaged, shared a home and looked towards the future as a married couple. Along the way infidelity ensued, the dream crumbled and the two ended their relationship, but not their musical ties. The songs on TRUTH ON TAPE detail the heartbreaking end of a union, emotions to which we all can relate.
Singer/pianist Jencey Hirunrusme commented, "The ironic thing about Smile Smile creating this album is that if we would have never broken up, then this album wouldn't exist. I feel like these songs are hopeful, devastating and so personal to us. I hope that it can reach out and speak to anyone who has had their heart broken…" Singer/guitarist Ryan Hamilton added, "This record is a break-up record. It's about our break-up. It's our story and it's true. We have no intention of being mysterious about what we are to each other or what TRUTH ON TAPE is about."
Smile Smile has toured in the past with such diverse artists as Mat Kearney, Metric, Loretta Lynn, Bob Schneider, Simple Plan and Bowling For Soup.
"This boy-girl duo give me goosebumps with their lovesick punch. Two voices, drum machines, a guitar and a keyboard equal undeniable chemistry. It's emotional without being in-your-face - almost like you're eavesdropping on some pillow talk." –Quick DFW
"A sort of Clap Your Hands Say Yeah/Mazzy Star hybrid of sing-along folk, buzzy country-leaning tunes and uptempo / downtempo swings, with brilliantly unconventional songwriting and smart harmonies anchoring the whole deal." –Dallas Observer
RELEASES
CD TRACK LISTING
01. This Is For Real
02. Marry A Stranger
03. Next To Me
04. When We Make Love
05. Fatal Flaw
06. Burn The Water
07. Permanent Bliss
08. Broken Buildings
09. Backwards
10. Statue
11. Some Mornings
CATALOG INFO
Album Title: Marry A Stranger
Label: Kirtland Records
Catalog Number: KR-66
Release Date:8/14/12
Format: CD
Type: Full
CD TRACK LISTING
1. Tempo Bledsoe
2. Beg You To Stay
3. Cancer
4. Somebody Else
5. Truth On Tape*
6. Move Along Folks...
7. Days Go By
8. The Attic
9. Sleepwalking
10. Goodbye Caroline
11. Labor Of Love
CATALOG INFO
Album Title: Truth on Tape
Label: Kirtland Records
Catalog Number: KR-48
Release Date:2/2010
Format: CD
Type: Full
CD TRACK LISTING
1. Anymore
2. Your Life
3. Sad Song
4. Taking its Toll
5. Stranger Across the Street
6. Hope Avenue
7. Icy and Cold
8. Waving the White Flag
9. 25 Years
10. Doorways / Why Bother
+ Sad Song Video
CATALOG INFO
Album Title: Blue Roses
Label: Kirtland Records
Catalog Number: KR-45
Release Date:6/2008
Format: CD
Type: Full